This sale has ended!
Calling all backyard gardeners and those of you aspiring to grow your own vegetables! The 2017 Johnson's Backyard Garden Transplant Sale is bigger than ever, and we can't wait to see your home gardens flourish.
On Saturday, March 11th and 18th, we will be hosting our Annual Spring Sale at 4008 River Road, Garfield, Texas 78612 from 9am-2pm. We are proud to be able to share so many heirloom varieties this year. The new plantings were inspired by my trip last fall to Turin, Italy,where I was honored to be chosen as a U.S. delegate at Terra Madre Salone del Gusto 2016, sponsored by Slow Food USA. We are growing nearly 20 varieties of vegetables from Ark of Taste, which is a living catalog of delicious and distinctive foods facing extinction. Through identifying and championing these foods, we keep them in production and on our plates.
In addition to our Ark of Taste Selections, we have also cleaned out our seed storage cooler and are offering over 60 different types of extremely rare and unusual varieties of Heirloom, Cherry, Roma, and Hybrid tomato transplants.
While we have almost always been primarily vegetable growers, a fruit-growing fervor overtook us when we started our grape vineyard three years ago. We are expecting our first harvest this year of our Victoria Red table grapes. So this year, along with planting multiple varieties of persimmons, figs, pomegranates, pears, pecans, grapes, muscadines, and citrus on the farm, we also decided to offer these carefully selected varieties to you, our friends and neighbors.
The transplant sale is our way of sharing our farming experiences in the hopes that you and your friends and family get to plant and create your own garden oasis. Plant fruits, nuts, and grapevines now, for many years of enjoyment to come.
Lastly, for the kitchen garden cooks, and at the request of many of you, we've got an extensive selection of culinary herbs, organic compost, fertilizers, plus tomato stakes and cages. On top of that, we will be hosting an Organic Gardening Workshop taught by yours truly, Brenton Johnson, on Saturday March 11th. Sign up for this workshop here and learn how the magic of JBG started in the backyard garden on Holly Street just a few short years ago! Just don't let your hobby get out of control (mine usurped my entire yard, leaving my kids no place to play!). Don't worry parents- we have childcare for the kids during the workshop, so you can focus on expanding your horticultural knowledge!
On top of all of that, we will also have a full market stand setup so if you were unable to go to your favorite local farmer's market this week, or you're not yet a valuable CSA Member you'll be able to stock up here! We're going to have one of our favorite food trucks on site and a monstrous sand pile for the kids to explore, too. You won't want to miss out on this super fun family day.
**IMPORTANT NOTE ON TRANSPLANT ORDERING!**
If you get your CSA share delivered to your home, you can choose to have your transplants delivered to your home. Or If you get your CSA share delivered to a CSA pickup site, you can have your transplants delivered there. CSA Members please call or email us to place your order. 512-386-5273 and farm@jbgorganic.com.
Our farm is your farm! Feel free to email us at farm@jbgorganic.com to schedule a visit as we are open to the public for exploration and inspiration. The next two Saturdays are a great chance to come on over while our doors are open for this exciting sale. Come see us! We will have some good Texan tunes blasting out of the Greenhouse! Rain or shine, it'll be a grand ol' time out on the farm!
Thanks for your Support,
Brenton Johnson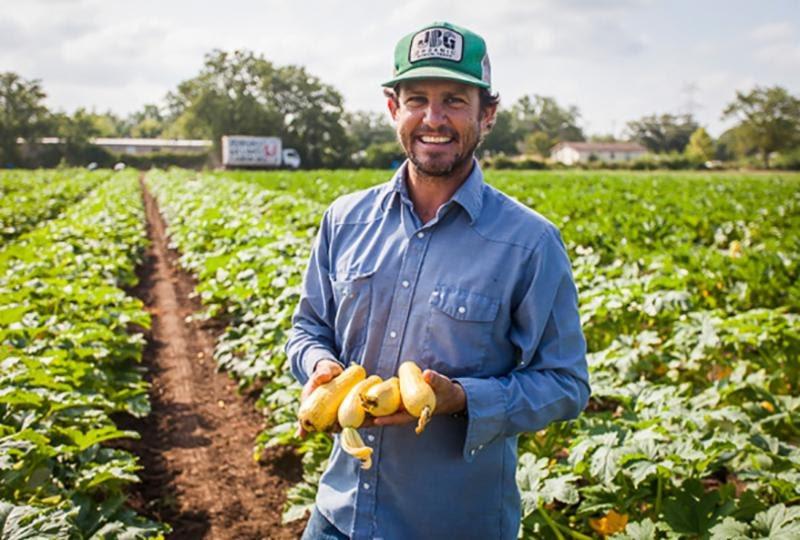 ---
Tomatoes
Bush Early Girl Tomato
F1 Hybrid, (3"),Certified Organic
Bella Rosa
F1 Hybrid, (3"),Certified Organic
Quali T 23
F1 Hybrid, (3"),Certified Organic
Polbig
F1 Hybrid, (3"),Certified Organic
Sudduth's Brandywine (Potato Leaf)
Ark of Taste Heirloom, (3"),Organic
Brandywine Tall Vine
Heirloom Pink, (3"), Organic
Brandywine Yellow
San Marzano
Ark of Taste Heirloom, Roma, (3"),Organic
Black Cherry
Cherry Purple, (3"),Organic
Yellow Pear
Cherry Yellow, (3"),Organic
Cherokee Chocolate
Heirloom Chocolate, (3"),Organic
Amana Orange
Heirloom, (3"),Certified Organic
Persimmon
Heirloom Orange, (3"),Organic
Kellogg's Breakfast
Heirloom Orange,(3"), Organic
Aussie
Heirloom Pleated Red, (3"),Organic
Carbon
Purple Heirloom, (3"),Organic
Black Truffle Tomato
Heirloom Black Pear, (3"),Organic
Pruden's Purple
Heirloom, (3"),Certified Organic
Great White
Heirloom White, (3"), Organic
Pineapple
Heirloom Yellow/Red, (3"),Organic
Momotaro
Pink Slicer, Early, (3"), Organic
Phoenix
Red Slicer, Organic
Marvel Striped
Heirloom Striped Orange, (3"),Organic
Tigerella Striped
Heirloom Striped Red, (3"),Organic
Big Rainbow
Striped Yellow, (3"),Certified Organic
Taxi Tomato
OP Yellow, (3"), Certified Organic
Lemon Boy
Yellow Slicer, (3"),Certified Organic
Green Zebra
Ark of Taste Heirloom, Plum, (3"),Organic
German Pink
Ark Of Taste, Organic
Climbing Tree
Rare Pink Heirloom, (3"),Organic
---
Tomatillo
Tomatillo
OP Toma Verde, (3"), Organic
---
Gardening Supplies
Tomato Cages
Tomato Cages
---
Gardening Supplies
Tomato Stakes
Tomato Stakes
---
Gardening Supplies
Organic Compost 5 Gallons
5 Gallons NOP-Certified Organic Compost
Organic Fertilizer
(Bloodmeal, Greensand, Rock Phosphate), 1 Quart
---
Fruit Trees
Brown Turkey (1ft, 1 Gallon)
Fig Tree, Brown Turkey (1ft, 1 Gallon)
Brown Turkey (2 Gallon) copy
Fig Tree, Brown Turkey (2 Gallon)
Angel Red (4ft, 2 Gallon)
Pomegranate, Angel Red (4ft, 2 Gallon)
Wonderful
Pomegranate, Wonderful
Smith
Fig, Smith
Improved Celeste
Fig, Improved Celeste
Fuyu
Persimmons, Fuyu
Hachiya
Persimmons, Hachiya
Eureka
Persimmons, Eureka
Tanenashi
Persimmons, Tanenashi
Keiffer
Pear, Keiffer
Le Conte
Pear, Le Conte
---
Grape Vines
Blanc du Bois
Blanc du Bois, (3"x 8"), Table & Wine
Victoria Red
Victoria Red, (3"x 8"), Table
---
Greens
Speckled
Ark of Taste, (3"),Certified Organic
Rhapsody
Boston Bibb, (3"),Certified Organic
Nancy
Green Butterhead, (3"),Certified Organic
Monte Carlo Lettuce
Endive
Pomegranate Crunch
Mini Red Romaine, (3"),Certified Organic
Alkindus
Red Butterhead, (3"),Certified Organic
Bok Choy
(3"),Certified Organic
Winter Bor Kale
Green Curly
Red Lettuce
Red Lettuce
Dino Kale
---
Eggplant
Rosa Bianca Eggplant
Italian Heirloom, (3"),Certified Organic
---
Herbs
Anise
(3"),Certified Organic
Genovese
Sweet Basil,(3"),Certified Organic
Red Rubin
Red Basil, (3"),Certified Organic
Thai
Basil, (3"),Certified Organic
Chives
Chives, (3"),Certified Organic
Dill
Dill, (3"),Certified Organic
Fennel
Fennel, (3"),Certified Organic
Lemongrass
Lemongrass, (3"),Certified Organic
Mexican Mint Marigold 1 Gallon
Mexican Mint Marigold
Mint Half Gallon
Mint Half Gallon
Mint
Mint - Small
Papalo
Papalo (cilantro substitute), (3")
Sage
Sage, (3")
Forest Rosemary
Rosemary
Sorrel
Sorrel, (3")
Summer Savory
Savory (Oregano flavor), (3")
Thyme
Thyme, (3")
Fenugreek
Fenugreek, (3"),Certified Organic
---
Peppers
Hinkelhatz
Ark of Taste, Hot
Jalapeno Pepper
Pepper, Hot
Padron
Italan Frying Pepper
Tabasco Pepper
Hot, Heirloom from Michoacán
Round of Hungary
Sweet, Pimento
Pequin (Extra Large) Pepper
Hot, Heirloom from Michoacán
---
Squash
Long Island Cheese
Winter Squash, Ark of Taste Heirloom
Sibley
Winter Squash, Ark of Taste Heirloom
Boston Squash
Summer Squash
---
Broccoli
Green Magic Broccoli
Broccoli
---
Cauliflower
Freedom Cauliflower
Hybrid, Cauliflower
---
Watermelon
Hime Kansen
Japanese Icebox Watermelon
---
Strawberry
White Everbearing Strawberry
White Everbearing "Pine" Strawberry