01/11/18 — Heydon Hatcher
Recipe and Photo by Nadia Tamby
Perhaps you made a resolution to eat healthier this year? Maybe you already eat plenty salads and you're looking for something a little different. I recently traveled for the holidays and came back with some exotic spices to mix up my meals – but don't worry, you should be able to find all of these at your local grocery store. This salad has so many interesting flavors, components, and textures. You can prepare ahead by grilling the salmon (or protein of your choice) up to two days before (and serving it cold, if you're into that), or you can grill it the day of and serve it warm on the salad. The dressing is addictive - make double or triple the dressing and use it to top grilled or roasted vegetables later in the week to spice up the rest of your CSA box!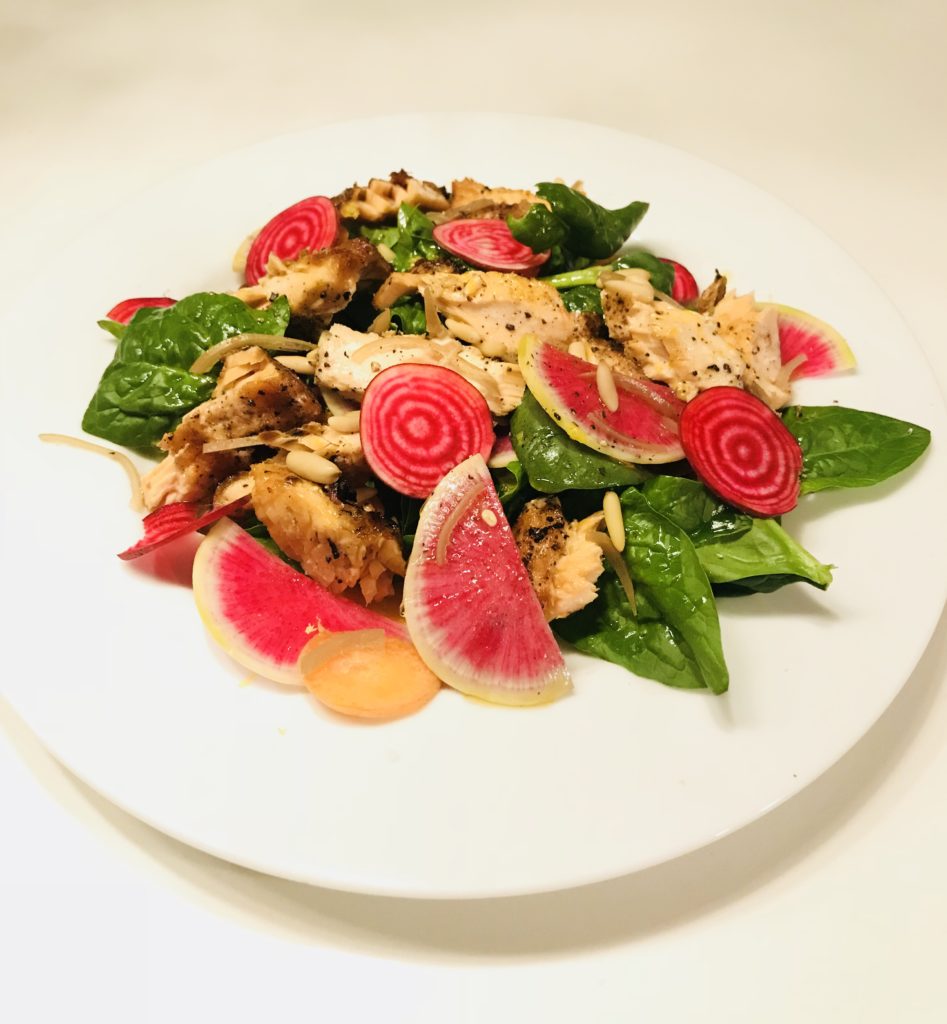 Ingredients:
Grilled salmon fillet (about 1/3 lb per person)
1 bunch spinach, washed and dried, thick stems removed
Assortment of colorful vegetables cut into different shapes (for this salad I used raw sliced carrots, watermelon radish and Chioggia beets*)
½ cup cooked quinoa or other grain
Salt and pepper, to taste
Dressing:
1/3 cup extra virgin olive oil
½ teaspoon of each (whole spices): cumin, coriander
½ teaspoon of each (ground): cinnamon, paprika (spicy or mild, your choice)
1 lemon, zest and juice
2 tablespoons raw honey
1 garlic clove, grated (optional)
Salt and pepper, to taste
Topping:
1 tablespoon finely sliced preserved lemon* (remove flesh and discard first – you only want to use the peel)
2 tablespoons toasted pine nuts
Instructions:
Zest and juice the lemon into a bowl and add grated garlic (if using), salt and pepper and honey.
Using a mortar and pestle or spice grinder, coarsely grind the cumin and coriander seeds. In a small sauté pan, heat up olive oil then add all 4 spices and fry until fragrant. This should only take a minute, so keep an eye on it. Remove from the heat and drizzle into the lemon-honey mixture and whisk to emulsify (the honey helps to keep the oil and citrus juice from separating too much). I like to use a Microplane grater for the citrus zest and follow up with the garlic clove – and it saves you from the tedious task of chopping garlic.
Use the same sauté pan to toast the pine nuts until lightly browned (watch them carefully as well – they will burn quickly!)
Cut preserved lemons into quarters to make it easier to remove and discard the flesh. Stack up the 4 quarters and slice them very thinly.
Serve the greens and arrange the sliced vegetables and chunks of grilled salmon on each plate.
Drizzle the dressing on the salad and top with the toasted pine nuts and sliced preserved lemon.
OLDER POSTS