12/28/17 — Heydon Hatcher
Recipe and Photos by Mackenzie Smith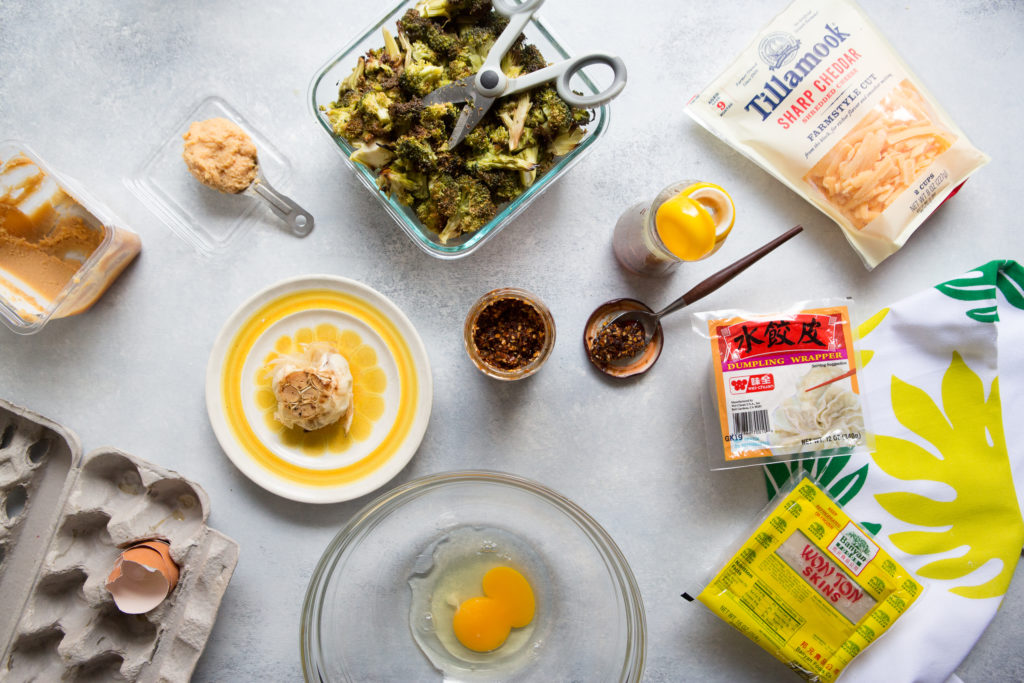 The first time I made broccoli and cheddar dumplings, it was out of sheer necessity. It was the winter of 2016. My boyfriend, Jason, and I were living in Brooklyn when
Jonas struck NYC
. Jonas was a blizzard severe enough to shut down the subway for a day or two and Mayor Bloomberg closed the public schools for two days.
Instead of preparing for the storm, I spent the day before Jonas at a happy hour that lasted well into the evening, after all of the shops had closed. I woke up the next day hungry and hungover.
After a glass of alka seltzer and a piece of sourdough fried in olive oil with a healthy helping of hangover shame, I took stock of our fridge: a container of roasted broccoli, almost a whole head of roasted garlic, a few pieces of roasted Jerusalem artichoke, a lemon, a near-empty tub of white miso, a single egg and a full bag of sharp cheddar cheese.
I laid back down, wishing I would have made it to the store before they all closed down for the storm, praying the alka seltzer would kick in soon. Right before I dozed off, I remembered that two packages of dumpling wrappers were stowed away in the back of our freezer.
As the snow fell in giant flakes outside of our window, Jason and I watched The Last Man on Earth and folded dumplings together. We didn't brave the weather until late that night when our bellies were full of broccoli and cheddar dumplings laced with miso and garlic and the snow was waist-high.
We have lived in Austin for a little over a year now, and have fully embraced the weather here. The 40-degree weather that usually gets up to 50 mid-afternoon is FREEZING and we want to stay in and make dumplings as much as we did when the snow piled on top of the cars parked on our block.
Cauliflower will work just fine in place of broccoli in this recipe, and any cheese could play for cheddar here. A head of roasted garlic isn't entirely necessary here: if you don't have one, you could sub in a clove or two of fresh, or a teaspoon or so of garlic powder. I use my kitchen shears to cut my broccoli into tiny pieces. If you don't have shears, chop them with a knife-- just don't skip this step. If the broccoli is too big, it will be hard to fold your dumplings without tearing the wrapper. This recipe does not include Jerusalem artichoke because I haven't seen any in our CSA this year, but they will surely improve the dumpling if you have some to add!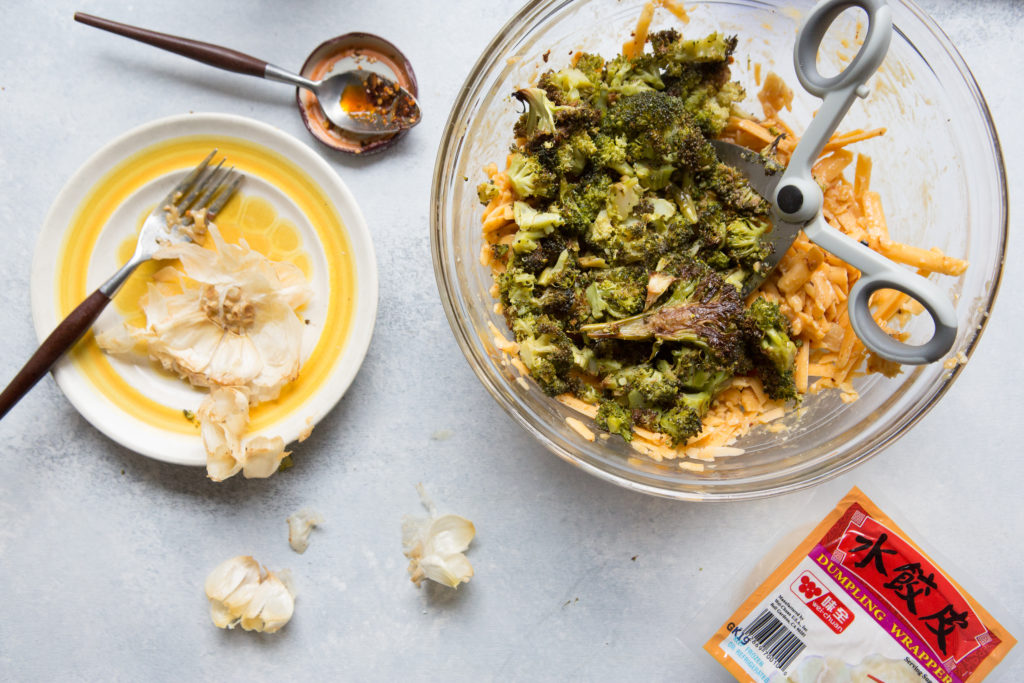 Ingredients
1 raw egg
1 Tablespoon white miso
1 teaspoon sesame oil
About a head of roasted garlic, skins removed
6 ounces (about a cup and a half) shredded sharp cheddar cheese
About 2 cups of roasted broccoli, cut into small pieces
1 medium sized baked potato, or half of a large one, skin on (sweet potato or white beans would probably be great here, too!)
1 package of dumpling wrappers (I get mine from Hana World in Parmer Lane in Austin)
Whisk the egg with miso and sesame. Stir in cheddar and garlic. Add vegetables and stir until they are evenly coated in the egg and cheese mixture.
If you are storing dumplings for later, freeze them on a single layer in a sheet pan for about 20 minutes before putting them into ziplock bags and back into the freezer.
I like
Appetite for China's method for pan-frying dumplings
, but they are also easy to prepare by dropping into boiling water and cooking until the dumplings float to the top of the pan.
Dipping Sauce
Mix together equal parts soy sauce and rice vinegar, then add a few tiny drops of sesame oil, a teaspoon or so of chili oil, and top with thinly chopped scallions.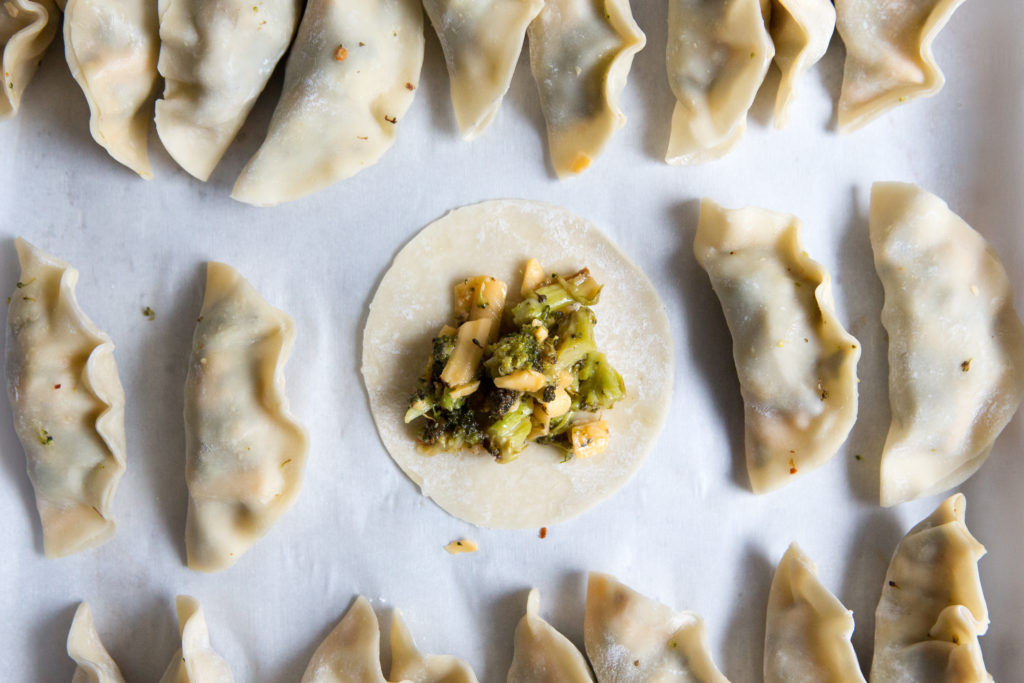 OLDER POSTS